Some interesting analysis has emerged from a number of sources and they draw a shifting picture in smartphone trends.  Recent news from Google regarding the Samsung Galaxy Nexus and the release of their updated Ice Cream Sandwich version 4.0 Android operating system heralds what may be a momentum overdrive for the dominant platform.  Android smartphones continue the trend of increasing share in the marketplace, even as the market itself grows.  To summarize this dominance, a spate of indicators tell the tale of the Android wave.
Gartner's analysis of global Q2 2011 smartphone sales shows the Android operating system dominating market share (rounded to nearest percentage point):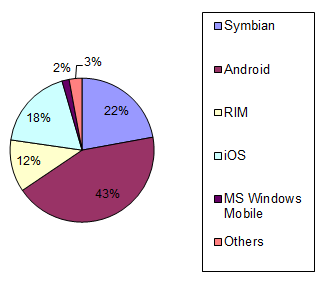 Source: Gartner (April 2011)
In 2012, they expect this domination to continue, largely at the expense of the phased-out Symbian system, predicting: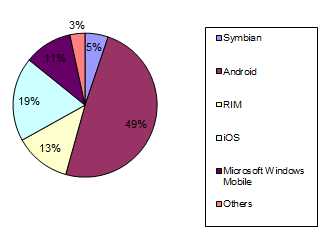 Source: Gartner (April 2011)
Data from the NPD Group found Android phones making up 52% of new smartphones purchased in the US in Q2 2011. The iPhone OS took 29% and RIM (BlackBerry) 11%.
Nielsen's figures for August 2011 in the US show Android as the leading OS, at 43% of all currently-owned smartphones, followed by Apple's iPhone at 28%, and the RIM OS at 18%.
June 2011 data from Nielsen for the US reveal Apple as the top smartphone manufacturer, followed by RIM, HTC, Motorola and Samsung: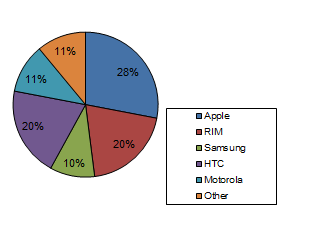 Source: Gartner (April 2011)
August 2011 data from IDC for worldwide smartphone sales also put Apple phones on top (19.1% of market share), followed by Samsung (16.2%), Nokia (15.7%), RIM (11.6%) and HTC (11%).
Mobile entertainment company Mxyer also tracks mobile device and OS use. Their 2010 review revealed Android devices accounted for 40% of visits to their mobile site in Dec 2010. Other popular operating systems included RIM at 38% and Windows Mobile at 12%. Apple's iOS accounted for 5% of visits.
Even as Apple releases new editions and expanded availability of its iPhone offering, it has done little to change this overwhelming share trend.
Motorola is also looking to gain its standing in the market as a manufacturer.  The company which has been acquired by Google, possesses many patents, yet its share amongst smartphone manufacturers slipped some in the second quarter.  Enter the new Droid RAZR - with a name resurrected from its groundbreaking enormously popular flip phone, the best-selling to this day the Android device boasts a number of groundbreaking features.  With increased competition with Samsung, Apple and LG, the company is looking to capitalize on the Google acquisition to gain share.
RIM appears to be one of two platforms on the decline.  Their recent issues have not helped their precipitous descent.  Despite recent attempts at atonement, and executive communications, the enterprise which is its most significant user base will probably trend further away from RIM and Blackberries.  The statistics show supported this trend already.  The other noted major platform in decline is Symbian, which certainly has its following, but does not enjoy the development and support outside of the others.  Nokia has within the last year walked away entirely from Symbian to develop Windows Phones.
Windows phones are certainly a part of the picture.  The sleek phones are competitive in features, pricing, and carriers, but seem to lack the marketing required to gain any more significant share thus far.  There have even been rumors of a lack of push of the devices and platforms at wireless carrier retail locations.   A number of new releases in the new HTC Titan, Samsung Focus S, and the Samsung Focus Flash should give the company an opportunity to change some perceptions around.  Part of Android's dominance plan is the variety of devices it is offered on.  With Windows on a number of new devices, this should help it compete to some degree.  It is especially important to Windows to create a significance in consumer's minds as very soon they will be introducing tablet devices and they will be needing that credibility and experience into gaining in this market.
The smartphone market is only a few years old at best.  What has transpired thus far has been nothing short of phenomenal.  As devices and their platforms become increasingly adopted, referring to consumer and business trends help indicate what technology is winning and what challenges some will face.  In these early days, very similar in fact to personal computer adoption, it is a changing and uncertain landscape where at the moment, Google is dominating by leaps and bounds.  Barring any significant mis-steps, the alignment of Google and Motorola's mobility products looks to be a continuing tale of operating system dominance and perhaps a meteoric rise of a hardware platform.