Before the holidays hit, many of us here at SiliconANGLE excitedly talked about the possibility of a network independent gPhone that was rumored to be called the Nexus-One. After a variety of different confirmations of different types, we all whiled away the time in our respective corners on how we all figured the Nexus One would be a game-changer for the mobile world.
See our previous coverage on the Nexus One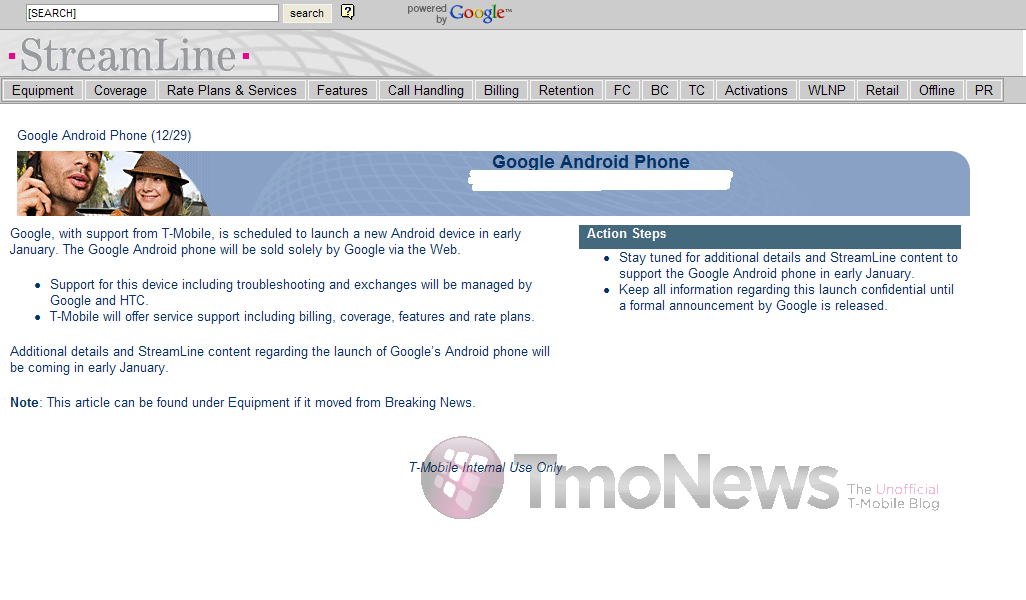 Today, the news is that the network of choice for this phone will be T-Mobile, although that's a far from confirmed fact yet.  From TMOnews today:
T-Mobile has gone and made their expected support of the Google Phone aka Nexus One "official" this morning, albeit in a vague sort of way. According to our sources, through an internal system T-Mobile is reporting they are getting an Android device but won't do any support for it other than "billing, coverage, features and rate plans, as we have previously stated. All troubleshooting and exchanges will be managed by Google and HTC. Launch is 'early January.'"

Our sources are confirming  a January 5th date, 9am, ordering through Google ONLY. Sadly, still no word on pricing.
There are screenshots over at TMOnews confirming the internal memo, so fairly solid as rumors go. What does this change?  Not much, actually, and it seems to confirm the general line of thinking that this device will be network agnostic, and as long as AT&T doesn't actively block the device, you should be able to purchase it from Google and use it wherever you want.
It also doesn't debunk the commonly theorized business model and pricing plan for the device, which is that the device itself will be partially subsidized in price by Google, which they'll make up in increased ad revenue.