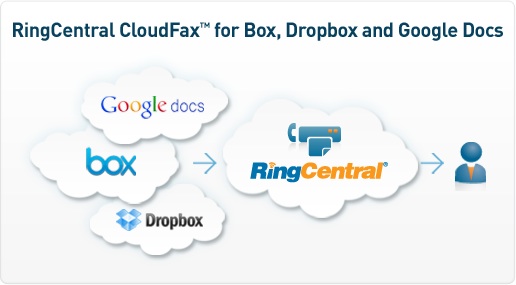 Cloud-hosted Internet telephony provider RingCentral is bringing an old technology into the modern IT landscape with the introduction of CloudFax, promoted as the first-ever fully cloud-integrated fax solution – which may be akin to developing a new, innovative steam engine.
That cloud enablement comes by way of integration with Dropbox, Box and Google Docs. A few clicks, and any document can be sent as a fax, or so RingCentral boasts. Users can send multiple documents to multiple recipients, as well as schedule faxes for later sending. And it's free to all current RingCentral members.
"RingCentral is committed to improving workflow and productivity for our customers with cutting edge technology and an intuitive user experience. RingCentral CloudFax enables our customers to take full advantage of leading cloud services by offering an integrated, fast and robust fax service," said RingCentral Chief Product Officer Naveen Gupta in a statement.
RingCentral already provides cloud services like call routing, automatic receptionists, voicemail boxes, smartphone integration, and more. The idea is to give even small businesses the same phone tools that large enterprises use, boosting their presentation to the outside world.  Back in September, it raised $10 million in funding, bringing its total funding up to $55 million.
Services Angle
Be honest – when was the last time you heard about a new fax service? This is a good example of how the cloud can reinvigorate an aging business. Just as social media switched up how enterprises interact with customers, offerings like RingCentral CloudFax make the old, new again.
But there's a key difference between leveraging social technologies for marketing purposes and bringing a fax offering into the cloud. Better customer relationships never go out of style, for reasons that are hopefully obvious. Meanwhile, fax is a 50-year-old technology that's become more of an annoyance than a productivity-booster to my generation. To me, having to fax a signed document means having to detour to the copy shop, print, read, sign and fax.
So while RingCentral CloudFax certainly sounds like it could be useful, I feel like it's also a death knell for an industry that's moving on, into collaboration solutions like, say, Dropbox, Box and Google Docs. In other words, fax is a technology with an expiration date that's sooner rather than later, and integrating it with the cloud is just ripping the bandage off slowly.